Renogy 50/100/170/200Ah 12V Solar Lithium Battery Rechageable Deep Cycle Leisure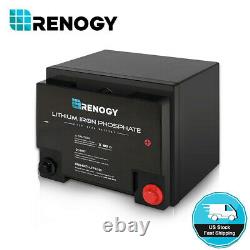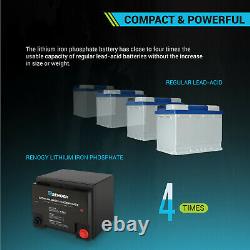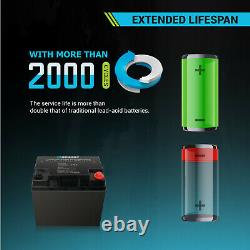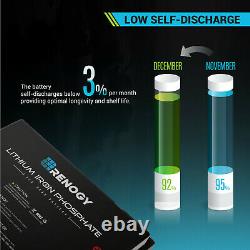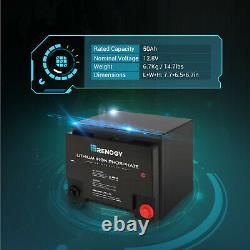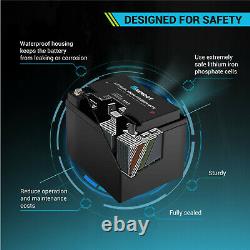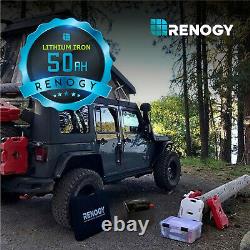 Renogy 12 Volt 50/100/170/200Ah Lithium Iron Phosphate Battery. 50Ah/170Ah : Designed to replace conventional solar battery storage units such as sealed Sealed, AGM, or Gel batteries, utilize your LFP battery in power-sport applications, off-grid applications, solar energy storage, and more!
The Battery is perfect for deep-cycle applications including cabins, solar/wind energy systems, UPS battery backups, telecommunication systems, medical equipment, and more. Please be aware that if the batteries' Battery Management System (BMS) is activated and the battery voltage shows 0V, you must use a compatible Li charger to reactivate our Li batteries. Make sure to tightly screw the battery terminals in, having loose battery terminals will cause the terminals to build up heat resulting in damage to the battery. Do NOT string this battery in series. It is made ONLY for parallel connections.
Smart 100Ah: The Battery enables auto-balance among parallel-connections and provides more flexibility for battery connection. The integrated smart battery management system (BMS) not only protects this 12V 100Ah LiFePO4 battery from various abnormal conditions but monitors and manages the charging/discharging process. The state-of-the-art battery cells ensure a long cycle life and exceptional discharge performance.
Smart 100Ah w/Self-heating: With built-in intelligent self-heating, the battery is rechargeable even in low-temperature conditions. The new Renogy BT-2 bluetooth module with RJ45 port is compatible with this smart Li battery. When connecting the batteries in parallel, a communication cable is not needed to enable the auto-balancing function. When the battery voltage drops to 0V, please reactivate the battery using an external charging device that has the lithium battery activation function.
Make sure to tighten the battery terminals securely and use appropriate size wiring. Failure to make a secure connection could result in overheating and battery damage.
DO NOT string the battery in series. Please avoid too high a voltage difference between paralleled batteries, despite the auto-balancing function, to avoid triggering the over-current protection. The normal operation of the self-heating function requires a stable charge current greater than 4A for each battery in the parallel battery bank. The self-heating function will not operate as intended if charged with a PWM charge controller or a small current battery charger in low temperatures.
Please secure all cable connections to the proper specification to ensure good contact between the cable lugs and the terminals. Over-tightening cable connections can cause terminal breakage, and loose cable connections can cause terminal meltdown or fire. UN38.3, MSDS, FCC, PSE, UKCA, CE, RoHS, Giteki. Bms battery protection system: safety protection system: High voltage protection, low voltage protection, over high current protection, high temperature protection, short circuit protection, automatic equalization of battery pack capacity. Designed for safety: fully sealed housing that will keep our battery no leaking, no acid mist, no corrosion and help reduce operation & maintenance costs.
Auto-Balance: Connects multiple batteries in parallel safely without internal state non-uniformity issues. Uncompromised Quality: 170Ah has the long cycle life with more than 2000 cycle times. 100Ah battery cells ensure a lifespan of more than 4000 cycles, 100A continuous discharge current, and a wide range of operation temperature. Renogy 50Ah LiFePO4 Lithium Iron Phosphate Battery.
Rated Capacity (0.2C): 50Ah. Minimal Rated Capacity (0.2C): 47.5Ah.
Cycle Life (0.2C, 20±5°C): 80% DOD 2000 cycles. Renogy 170Ah LiFePO4 Lithium Iron Phosphate Battery. Rated Capacity (0.2C):170Ah. Minimal Rated Capacity (0.2C): 161.5Ah.
Weight: 22 kg / 48.5 lbs. Renogy 100Ah LiFePO4 Lithium Iron Phosphate Smart Battery. Communication Port: RJ45 (RS485 Protocol). Operating Charge Temperature: 32131°F/ 055°C. Maximum Continuous Charging Current: 50 A.
Operating Discharge Temperature: -4140°F/ -2060°C. Maximum Continuous Discharging Current: 100 A. Voltage Range: 1014.8 V. Dimensions:11.4 x 6.8 x 7.4 inch / 289 x 172 x 187.5 mm.
Renogy 100Ah LiFePO4 Lithium Iron Phosphate Smart Battery w/ Self-heating. Dimensions: 11.4 x 6.8 x 7.4 inch / 289 x 172 x 187.5 mm. Renogy 200Ah LiFePO4 Lithium Iron Phosphate Battery.
Dimensions: 20.55 x 9.45 x 8.62 inch (522 x 240 x 219 mm). Maximum Continuous Charging Current: 100 A. Maximum Continuous Discharging Current: 200 A. For more product introduction, syestem set up method and troubleshooting information, please check our Video Tips page.
1 x LifePO4 Lithium Iron Battery. Other Items You Might Be Interested In. Smart Lithium Iron Battery Monitor. 20A LFP 240V 12V AC Battery Charger. DC to DC On-Board Battery Charger.
This item is in the category "Sound & Vision\Multipurpose Batteries & Power\Rechargeable Batteries". The seller is "renogysolar-uk" and is located in this country: GB. This item can be shipped to United Kingdom.
Capacity: 50Ah
Type: Lithium Iron Phosphate Battery
Model: Renogy 12V 50/100/170Ah Lithium-Iron Battery
Battery Type: Rechargeable
MPN: RNG-BATT-LFP-UK
Battery Size: 12 V
Brand: Renogy
Manufacturer Warranty: Manufacturer Warranty
Application: Solar/Wind Devices
Amp Hours: 50/100/170 Ah
Chemical Composition: Lithium Iron Phosphate (LiFePO4)
Voltage: 12 V