LIFOS Lightweight 12v Lithium Ion Battery 68Ah Leisure Caravan Motorhome Marine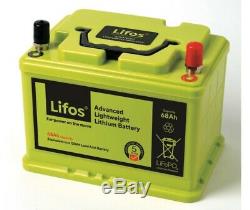 LIFOS Lightweight 12v Lithium Ion Battery 68Ah Leisure Caravan Motorhome Marine. Designed to replace domestic batteries of around 120AH capacity, the LiFOS Lithium Battery is an advanced battery using premium lithium battery chemistries Lithium Iron Phosphate (LiFePO4) which delivers reliable and safe power in virtually all conditions, whilst saving huge amounts of weight on board. This 68ah capacity battery has DoD (depth of discharge) of around 90%, meaning that it offers similar capacity to 120Ah Lead/Gel/AGM batteries that have a typical DoD of only around 50% i. Only about half of the capacity is useable before the voltage drops and the battery is unusable.
Furthermore, it weighs only 7.8kg compared to a typical 120ah lead acid battery at around 34kg! This system prevents discharge exceeding 90% and should therefore guarantee no less than 2750 charge and discharge cycles.
The LiFOS battery is so durable that if discharge is only normally around 50% (typical in a marine application) then the number of charge/discharge cycles achieved can be closer to 5000. This equates to around 13 years of normal use!
The LiFOS battery can output loads of around 1000W, so while it may not be suitable as an engine starting battery, it will easily handle most domestic boat applications. The built-in battery management system means that you can charge the Lifos battery with most standard battery chargers (up to 40Amp capacity) so installation is normally trouble free. The battery also features a bluetooth output, which when combined with the free LiFOS smartphone App (available for Apple or Android) gives the user a huge range of information about the state of the battery. LiFOS is fitted with removable terminal posts, compatible with caravan quick release connectors, so that it can fit in the smallest space possible. The posts can be removed and ring terminals connected directly onto the terminal plates. In addition, two LiFOS batteries can be joined in parallel to create double the (AH) capacity.
Please note that LiFOS cannot be joined in series to create higher voltages. LiFOS is a featherweight 7.8kgs. When compared to a good quality 120Ah lead acid battery at circa 34kgs, LiFOS gives an impressive 77% weight saving and in boats, motor campers and caravans, saving 27+ kilograms can be crucial. LiFOS does not emit noxious gases therefore does not need to be housed in a specially vented chamber.
LiFOS has a huge operating temperature range of -20 to +60 °C and it can be used in any orientation e. On its side, although on its base will give the best performance.
Like all batteries it should not be allowed to discharge fully over a long period and if it will be left without any power input for a 6-month period the LiFOS must be charged. A warning will be sent via the App as a reminder. A LiFOS can cost up to 3-4 times what a standard120Ah lead acid or gel battery would cost (although often much less than this). In many marine applications an unexpected battery failure can also incur huge costs, especially among long distance cruisers in remote areas. LiFOS batteries have a vastly longer lifespan, meaning that they should keep you cruising for longer.
Chemistry: Lithium Iron Phosphate LiFePO4. Charging temperature: 20 to +60ºC.
Discharge temperature: 0 to +60ºC. Dimensions: L 175 x W 257.5 x H 190mm. The item "LIFOS Lightweight 12v Lithium Ion Battery 68Ah Leisure Caravan Motorhome Marine" is in sale since Monday, March 9, 2020. This item is in the category "Vehicle Parts & Accessories\Motorhome Parts & Accessories\Campervan & Motorhome Parts". The seller is "dotpc" and is located in Uttoxeter.
This item can't be shipped, the buyer must pick up the item.