12v 260ah Expedition Plus Agm Deep Cycle Leisure Battery (exp12-260)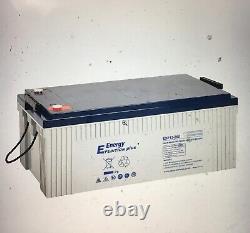 12V 260AH EXPEDITION PLUS AGM DEEP CYCLE LEISURE BATTERY (EXP12-260). 12V 260Ah fit-and-forget AGM lead-acid battery for leisure, marine & many other deep cycle applications - from Expedition's exclusive battery range. Absorbed Glass Mat technology (great durability and vibration-resistance). Totally sealed for life - dry-cell, unspillable and safe. Minimal self-discharge - ideal for seasonal use. Specifically designed for cyclic use over sustained periods of time (deep-cycle).
Power demand level of intended application: Medium (casual to regular usage). 99.99% pure primary lead (PPL) for faster charging, better performance & a cleaner environment. M8 Screw down bolt fixings supplied. If you require round posts (car type) these can be supplied.
Please see our accessories section. Absorbed Glass Mat (AGM) batteries are dry-cell, with the battery acid being encapsulated in fibreglass sheets.
In comparison to flooded batteries, AGMs offer increased levels of reliability and versatility - with no free acid, they can be mounted in any orientation and are better able to handle vibration. 14.6 - 14.8V. Terminals at One End (Layout 2). Bolt Through Terminals (Type 2).