12V 110 AH Xtreme AGM Deep Cycle Leisure Low Height Battery NCC CLASS A 4Yr Gtee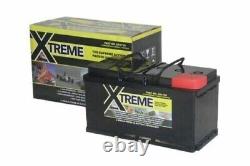 Deliveries Costs are to UK Mainland ONLY.. We Do Not Post To The Following Postcodes AB31-56, KA27-28, KY, IV, PH, PA20-78, HS1-9, KW0-17, FK17-21, ZE, NORTHERN IRELAND, ISLE OF WIGHT OR ISLE OF MAN.. ALL ORDERS WILL BE CANCELLED.
LEOCH 12V - 110AH 1750A XTREME RACING SERIES XR-1750 DUAL PURPOSE AGM BATTERY. Fit-and-forget AGM lead-acid battery for multiple applications(LOW FIT). Also suitable for use as a starter battery (dual-purpose) - from Leoch's Xtreme series.
The Xtreme series is an exciting and striking-looking premium AGM collection. Xtreme is special in that it is dual-purpose - the batteries in this range are particularly excellent for deep cycling, but can also be used as starter batteries. Xtreme batteries are also suitable for use in vehicles that utilise stop-start systems. Absorbed Glass Mat (AGM) batteries are dry-cell, with the battery acid being encapsulated in fibreglass sheets.
In comparison to flooded batteries, AGMs offer increased levels of reliability and versatility - with no free acid, they can be mounted in any orientation and are better able to handle vibration. Typical uses - motorcycles, jetskis & mobility scooters. Absorbed Glass Mat technology (great durability and vibration-resistance). Totally sealed for life - dry-cell, unspillable and safe. Dual purpose - deep-cycle battery that can also be utilised as source of starter power.
Superior performance in extreme temperatures. Power demand level of intended application: Medium - Advanced regular to frequent, intense (live-on-board) usage.