12V 105AH Numax XV31MF Motor Mover, Leisure, Marine Battery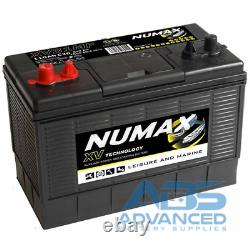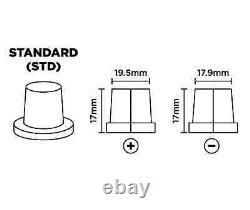 UKs Number 1 Online Battery Supplier. Numax CXV31MF - 105Ah Deep Cycle Battery. These batteries are designed for both starting and deep cycle battery applications.
For Solar Panels Caravans Motorhomes Motor Movers Yachts Boats Narrowboats Trolling Motors RV's Motor Boats Winches. Our Numax Leisure Batteries are generally intended for use with products such as TV's, video players / dvd players and a wide range of other portable and semi portable 12 volt Leisure and Marine appliances. Most of these applications require a constant flow of power. For this reason we would recommend the use of deep cycle / cyclic batteries. Can take hundreds of charging cycles and have a much greater service life than other types.
They are very good for supplying constant levels of power over long periods of time as well as having good cranking ability. Completely sealed Silver Calcium Lead Acid Technology for Enhanced Safety. Comfortable and robust carrying handle. Anti Flash Back Safety Labyrinth (link to pic).
Low self discharge rate giving extended shelf life when not in use. Significantly enhanced cold cranking ability. Deep Cycle (can take deeper discharges during cycles).
Cyclic (can be used many times over). Perfect for Solar Installations and Wind Turbines. Please note: We recommend checking your existing battery dimensions before ordering as vehicles improve from year to year and add more electrical equipment etc, vehicle manufacturers do upgrade the battery size. We constantly update our database to provide our customers with the correct battery. We normally dispatch our products at 4.00pm Monday - Friday.
However, this could foreseeably (although rarely) be affected by events such as postal strikes or disrupted road transport networks. UK mainland only and no weekend deliveries. Certain Scottish Highlands and AB postcodes can take up to 48 hrs to deliver. Our batteries range from 1, 2, 3, 4 and 5 year.
In the rare event of a faulty battery, we would send a replacement within 48 working hours and also collect the old battery free of charge.