Victron Energy Lead Carbon Battery 12V 160Ah (M8) BAT612116081 Leisure Solar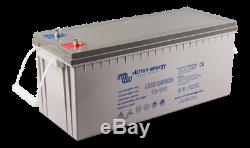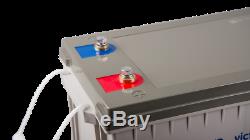 Like what you see so far? Victron Energy Lead Carbon Battery 12V 160Ah (M8) - BAT612116081. Ask a question about this item.
Maintaining extremely high quality products. Failure modes of flat plate VRLA lead acid batteries in case of intensive cycling. The most common failure modes are. Softening or shedding of the active material. During discharge the lead oxide (PbO2) of the positive plate is transformed into lead sulfate (PbSO4), and back to lead oxide during charging.
Frequent cycling will reduce cohesion of the positive plate material due to the higher volume of lead sulfate compared to lead oxide. Corrosion of the grid of the positive plate. This corrosion reaction accelerates at the end of the charge process due to the, necessary, presence of sulfuric acid. Sulfation of the active material of the negative plate. During discharge the lead (Pb) of the negative plate is also transformed into lead sulfate (PbSO4). When left in a low state-of-charge, the lead sulfate crystals on the negative plate grow and harden and form and impenetrable layer that cannot be reconverted into active material. The result is decreasing capacity, until the battery becomes useless. It takes time to recharge a lead acid battery. Ideally, a lead acid battery should be charged a rate not exceeding 0,2C, and the bulk charge phase should be followed by eight hours of absorption charge. Increasing charge current and charge voltage will shorten recharge time at the expense of reduced service life due to temperature increase and faster corrosion of the positive plate due to the higher charge voltage.
Lead-carbon: better partial state-of-charge performance, more cycles, and higher efficiency. Replacing the active material of the negative plate by a lead-carbon composite potentially reduces sulfation and improves charge acceptance of the negative plate. The advantages of lead-carbon therefore are.
Less sulfation in case of partial state-of-charge operation. Lower charge voltage and therefore higher efficiency and less corrosion of the positive plate. And the overall result is improved cycle life.
Tests have shown that our lead-carbon batteries do withstand at least five hundred 100% DoD cycles. The tests consist of a daily discharge to 10,8V with I = 0,2C?? Followed by approximately two hours rest in discharged condition, and then a recharge with I = 0,2C??
Several manufacturers of lead-carbon batteries claim a cycle life of up to two thousand 90% DoD cycles. Victron Energy have not yet been able to confirm these claims. Absorption 14,1 - 14,4V. Float 13,5 - 13,8 V 13,5 - 13,8 V. Storage 13,2 - 13,5 V 13,2 - 13,5 V. Followed by approximately two hours rest in discharged condition, and then a recharge with I = 0,2C?? Immediately followed by recharge at I = 0,2C?? We are distributors of all Victron Energy products. If you are unsure in any way, please do not hesitate to contact our sales team. We will only deliver to addresses within the United Kingdom unless the advert suggests otherwise. We will inform you if we become aware of an unexpected delay. Please note that if your order is made up of a combination of items, deliveries may, on occasion be made separately. Unfortunately this means we are unable to deliver to the following areas: AB31 - AB38, AB40 - AB56, KW1 - KW17, PA20 - PA78, PH4 - PH50, IV, HS, JE, IM, BT, Channel Islands & Ireland. Opening hours We are open Monday to Friday from 8am until 5.30pm and 8.30am until 4.00pm on Saturdays.
Option 1 -Having the battery tested yourself Take the battery to a local garage for a battery test. Make sure the battery is fully charged and over 12volts when the test is performed. Ensure that the voltage is shown on the test report.
When we have received the test report and the invoice we will call you to arrange a new product to be sent to you and collection of the faulty item. The battery will be sent back fully charged and ready to use. We deal with many customers and it is not possible to remember every individual case. If you are sending unwanted goods back they must be in a resalable condition otherwise they will not be accepted as unused. When you try to install the item you forfeit your right to cancel.
Please print out and keep your receipt. Liability information Short deliveries must be reported within 24 hours of receipt. Many of our products are intended for professional installation. We will not be held liable for any damage to person or object caused by incorrect installation of our products.
If you are unsure about the correct way to install a product please seek advice from a qualified person or contact our technical team. We do our best to make sure that we have everything in stock that we list on the internet but occasionally we get caught out when stock drops to low levels. For certain deliveries we also use a pallet company or our own transport. It is crucial that you spell your address correctly and include your postcode accurately because our system takes your text directly and imports it into our dispatch system. Errors can cause delays or even the need to rebook a parcel at your expense if your data entry is the cause of the problem.
Waste Battery Regulations Under the Waste Battery Regulations, Battery Megastore are now offering a take back scheme for all portable waste batteries, you can return your waste batteries to our business premises in person. End-users may find stores in their local area more accessible. WEEE With effect from July 2007, the UKs Waste Electrical and Electronic Equipment (WEEE) Regulations require that all producers of electrical equipment are now obliged to pay for these items to be recycled when they become waste. These regulations also require that all retailers both actively assist in delivering a UK wide WEEE collection infrastructure and encourage the participation of consumers in recycling electronic equipment. So that you can get your waste electrical goods recycled, we have contributed towards a national fund to assist local councils to further develop their existing waste electronics collection facilities, which will in turn allow producers of this equipment to meet their obligations.
We are one of the UK's fastest growing stored energy suppliers and we are committed to providing comprehensive information and a top quality product range at a highly competitive price point. We pride ourselves in supplying our quality products across a whole range of clients and applications. We work hard to supply an efficient service to all of our customers, from large industrial organisations and battery wholesalers, UPS battery banks for financial institutions through to individual consumers purchasing single car batteries. Battery Megastore Ltd has experienced strong growth since its beginnings in 2000.
Try us, you wont be disappointed. Yours sincerely Battery Megastore Team. Want the latest offers first? Sign up to our free newsletter.
99% of customers would recommend us to a friend. The item "Victron Energy Lead Carbon Battery 12V 160Ah (M8) BAT612116081 Leisure Solar" is in sale since Wednesday, October 24, 2018. This item is in the category "Home, Furniture & DIY\DIY Materials\Alternative & Solar Energy\Solar Panels". The seller is "batterymegauk" and is located in GL20 8NB. This item can be shipped to European Union member countries.
Car Battery Type: n/a
CCA: 600CCA
Dimensions (Including Terminals): 532 x 207 x 215mm
Manufacturer Part Number: BAT612116081
Other Part Number: BAT612116081
Country/Region of Manufacture: n/a
Part Manufacturer: Victron Energy
Part Manufacturer Number: BAT612116081
Reference OE/ OEM Number: BAT612116081
Vehicle Type: n/a
Type: Lead Carbon
MPN: BAT612116081
Brand: Victron Energy
Voltage: 12V