12v battery 120ah Lifepo4 lithium leisure motorhome caravan marine boat yacht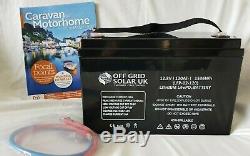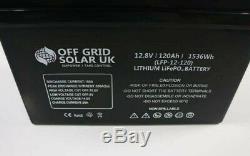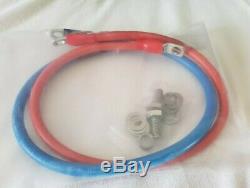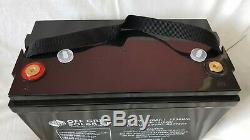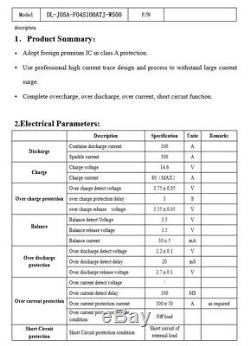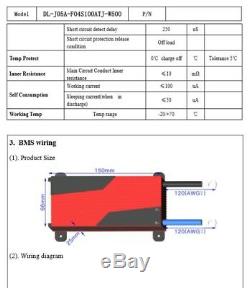 THIS LISTING IS FOR: ONE 12V 120AH BATTERY 12volt DC 120 Amp Hour (12V 120Ah) LITHIUM -ION BATTERY / LiFePO4 BATTERY You can now enjoy a lightweight battery that will simply drop in as a direct replacement for your traditional lead acid battery. It weighs in at 15kg and measures 326170220mm, that's less than 1/4 of the weight of a traditional lead acid battery. The Off Grid Solar UK Lithium battery is supplied fully protected by a sophisticated and specially designed lithium battery management system that constantly monitors every cell to ensure the battery is always optimized for best performance and life. The battery management system will not allow charging in low temperature conditions as you cannot charge this battery technology in freezing conditions.
These batteries are designed to run in parallel so you can install two of these for extra storage capacity and are ideal for Solar power applications. The charging efficiency of lithium ion is 2 times higher and faster than a normal lead acid/gel/AGM battery. The Battery Management System has a maximum charge current of 80 amps, this means that you can charge from alternator/generator for rapid charging. Please check your alternator/Generator output first, if it is over 80 amps charging current a voltage regulator will be required, consult an electrical engineer.
These are currently the best battery technology on the market and although the upfront cost is relatively high, in the long term and actual use these beat everything hands down. If treated well these should last 15 years. Unlike with lead acid batteries, it is considered practical to regularly use 90% or more of the rated capacity of a lithium battery bank, and occasionally more. Consider a 100 amp hour battery if it was lead acid you would be wise to use just 30 to 50 amp hours of juice, but with lithium you could tap into 90 amp hours or even 100Ah (100% DoD). Lead-acid AGM usable capacity Lithium-Ion usable capacity2/ Extended Cycle Life Manufacturers and laboratories report that tens of thousands of cycles can be expected from a high quality LiFePo4 battery.
However, these are theoretical values that could not be easily verified. These values are dependent on the charge rate, the depth of discharge but more importantly on the quality of the cells used. These cycle life results are much more better than NMC or NCA chemistries, massively used in electric vehicle industry. 3/ Peukerts Losses & Voltage Sag Virtually Non Existant The discharge curve of lithium batteries (especially relative to lead acid) is essentially flat meaning that a 20% charged battery will be providing nearly the same output voltage as an 80% charged battery. This prevents any issues caused by the voltage sag common to lead acid as they discharge, but does mean that any battery monitor or generator auto-start dependent upon voltage levels will likely not work well at all when monitoring a lithium bank.
Lithium-Ion discharge curves Another huge advantage of lithium batteries is that Peukerts losses are essentially non-existant. This means that Lithium-Ion batteries can deliver their full rated capacity, even at high currents. Whereas lead acid can see as much as a 40% loss of capacity at high loads. In practice, this means that Lithium-Ion battery banks are very well suited to powering high current loads like an air conditioner, a microwave or an induction hob. Lithium-Iron-Phosphate Discharge curves at different C rates4/ Size & Weight Advantages In terms of weight and size of the lithium-ion batteries, they are significantly lighter and therefore easier to install and maintain especially for those that have bad backs!
Generally 2-3 times lighter than their lead acid equivalents. 5/ Fast & Efficient Charging Lithium-ion batteries can be fast charged to 100% of capacity.
Unlike with lead acid, there is no need for an absorption phase to get the final 20% stored. And, if your charger is powerful enough, lithium batteries can also be charged insanely fast. If you can provide enough charging amps you can actually fully charge a lithium ion battery just 30 minutes.
For length of service it is better to charge with solar. DO NOT EXCEED 80 AMPS DC FOR CHARGING THIS BATTERY. If you dont manage to fully top off to 100%, no worries unlike with lead acid, a failure to regularly fully charge Lithium-Ion batteries does not damage the batteries. This give you lots of flexibility to tap into energy sources whenever you can get them without worrying about needing to do a full charge regularly.
Several partly cloudy days with your solar system? No problem that you cant top off before the sun goes down, as long as youre keeping on top of your needs.
With lithium, you can charge up what you can and not fret about leaving your battery bank perpetually undercharged. 6/ Very Little Wasted Energy Lead acid batteries are less efficient at storing power than lithium ion batteries.
Lithium batteries charge at nearly 100% efficiency, compared to the 85% efficiency of most lead acid batteries. This can be especially important when charging via solar, when you are trying to squeeze as much efficiency out of every amp as possible before the sun goes down or gets covered up by clouds. Theoretically, with lithium nearly every drop of sun youre able to collect goes into your batteries.
With limited roof & storage space for panels, this become very important in optimizing every square inch of wattage youre able to mount. 7/ Climate Resistance Lead acid batteries and lithium lose their capacity in cold environments. As you can see in the diagram below, Lithium-ion batteries are much more efficient at low temperatures. Moreover, the discharge rate affects the performance of lead acid batteries.
At -20°C, a Lithium battery that delivers a 1C current (one times its capacity), can deliver more than 80% of its energy when the AGM battery will deliver 30% of its capacity. For harsh environments (hot and cold), Lithium-Ion is the technological choice, however, we recommend to not use the batteries in temperatures under -15 Degrees Celsius. Cold weather storage The storage temperature range is -23C to 60C.
We recommend bringing the batteries to a 100% charge and then disconnecting them completely for storage. After 6 months in storage you should still have 75-80% charged batteries. Storing batteries in sub zero weather (-15 or more) has the potential to crack the abs plastic and more importantly causes a faster loss of capacity, in some cases drastically more than the typical 2-4% per month loss. Capacity vs temperature 8/ Fewer Placement Issues Lithium-ion batteries do not need to be stored upright, or in a vented battery compartment.
They can also fairly easily be assembled into odd shapes an advantage if you are trying to squeeze as much power as possible into a small compartment. This is especially useful if you have an existing battery bay that is limited in size, but you want or need more capacity than lead acid is currently able to provide. 9/ Zero maintenance requirements Lithium-Ion batteries are fairly maintenance free. A balancing process to make sure all the cells in a battery bank are equally charged is automatically achieved by the BMS (Battery Management System). Just charge you battery and you are good to go.
Store in a dry and warm environment for extended life Specifications LiFePo4 Lithium Battery 12.8V / 120Ah / 1536Wh Discharge Current max : 100amps (Max 1200watts 12v inverter continuous) Peak Discharge Current : 300amps (5 seconds) High Voltage Cut Off : 15.6V Low Voltage Cut Off : 8V Max Charging Voltage : 14.6V Max Charging Current : 80amps Automatic Low Temperature Cut off Do not exceed 60 degrees Non Spillable Ultra Light High Performance. Energy Storage: UPS , backup, power 2. EV , Caravans, Motorhomes, Yachts, Boats, Canal, Campers, golf trolleys, 12V electric scooters.
Solar System, Wind Energy Storage, Solar/Storage Home System, Solar Street Light. Small medical equipment and portable equipment. Built-in Battery Management System (BMS) protects the cells against excessively high or low voltages, high currents, short circuits, low temperature cut off; 2.
High energy density, low internal resistance; 4. Excellent safety performance, no explosion, no re; 5. High capacity & light weight 8.
Fully Sealed (cannot spill) - Rechargable - Deep Cycle battery Suitable for cyclic deep cycle typically 10 - 15 year life For standby power only this range has a nominal 5 - 8 year life. (Please note this is a rough guide as it depends on many factors such as storage temperature, useage etc) Excellent recovery from deep discharge Low self discharge of just 3% per month Maintenance free Terminals are Internal threaded 8mm - Nuts/washers included with 16mm2 cable and lugs. ANY QUESTIONS PLEASE DO ASK A Courier can be arranged to deliver as most couriers will not touch lithium as classified as Dangerous goods! If you wish it to be be delivered to you I can work out a price depending on where you are located in the UK. The item "12v battery 120ah Lifepo4 lithium leisure motorhome caravan marine boat yacht" is in sale since Saturday, March 21, 2020.
This item is in the category "Vehicle Parts & Accessories\Motorhome Parts & Accessories\Caravan Parts\Mobile/ Touring Caravan Parts". The seller is "zadok64" and is located in Colchester.
This item can't be shipped, the buyer must pick up the item.
Manufacturer Part Number: 12V120AH
Brand: Off Grid Solar UK
Custom Bundle: No
Model: LFP 12-120
Featured Refinements: 12V Leisure Battery
Sub-Type: Leisure deep cycle battery
Type: lithium lifepo4 battery
Item Sub-Type: lithium LiFePo4 battery