ULTRAMAX 12V 50A (40AH 45AH 42AH) AGM/GEL Leisure & Mobility Application Battery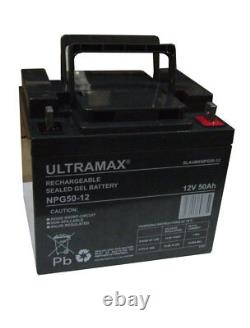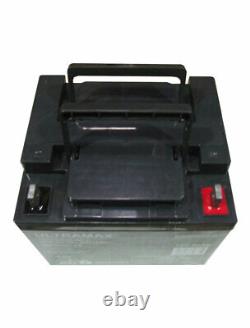 50Ah 12V Deep Cycle AGM Maintenance FREE Sealed Gel Battery. Brand New Genuine Ultra Max 12v 50Ah Maintenance Free Gel Battery. THIS LISTING IS FOR: ONE BATTERY. DEEP CYCLE BATTERIES, MAINTENANCE FREE SEALED GEL CELL BATTERY. Gel Batteries are best used in VERY DEEP cycle application and may last a bit longer in hot weather applications.
SUPERIOR DEEP CYCLE LIFE WHEN COMPARED TO AGM BATTERIES. MAY OPERATE IN ANY POSITION. BETTER SUITED FOR LONG DURATION DISCHARGES. SUPERIOR SHELF LIFE WHEN COMPARED TO WET CELL BATTERIES.
These Batteries are the same Dimensions & replace 38Ah, 40Ah, 42Ah, 44Ah, 45Ah. DIMENSIONS: L 197mm x W 165mm x H 170mm inc posts.
Fully Sealed (cannot spill) - Rechargeable - Deep Cycle Gel battery. NOTE: THIS HAS THE SAME FOOTPRINT AS THE STANDARD 38Ah, 40Ah, 42Ah, 44Ah, 45Ah and fits most battery compartments. All Batteries are Fresh and ready to Go (approx 80% up) - but to get maximum time charge it before use. Terminals are Bolt Connectors - Bolts and Nuts included. Fitted to various Golf Buggies, Mobility Scooter, Wheelchairs, UPS, Lawn Mowers, Lights, Toy cars, Sprayers, Photovoltaics, Robots, Communications, Electric tools, Pumps, Measuring instruments, AGV (Automatic guided vehicle), Magnetic Lifts and many more.
The Ultra Max NPG are the top of the range Batteries Good for both cranking and Deep Cycle Use. They are Totally Sealed for Life, therefore Clean & Safe to Handle. Made for Deep Dis-charging also has LOW self discharge rate when Standing. This battery is Manufactured in BLACK we will supply whatever color our current stock is - It is Exactly the same battery. Suitable for cyclic and standby power applications.
For standby power this range has a nominal 5 - 8 year life. Can be used in any position. Excellent recovery from deep discharge. Low self discharge of just 3% per month. Please Note: This battery does not come with connecting leads for your Application. It is a simple operation to take the leads from your existing battery and fit them to your new battery, although we can supply the leads if required. Deliveries Costs are to UK Mainland ONLY!!! Scottish Highlands and some other areas of Scotland incl. AB31+ postcodes, ALL Islands or N.
IF YOU REQUIRE YOUR ORDER TO BE DELIVERED TO ANY OF THE AREAS MENTIONED ABOVE. We are only human, and occasionally things do go wrong.
So please give us a chance to sort it out first.