Renogy 100Ah 12V Lithium Battery Leisure Solar Smart BMS Deep Cycles 4000+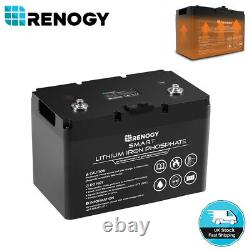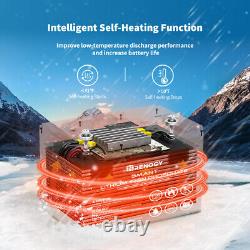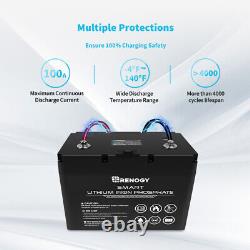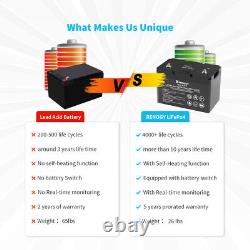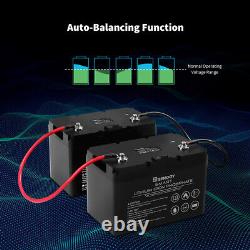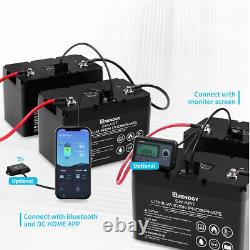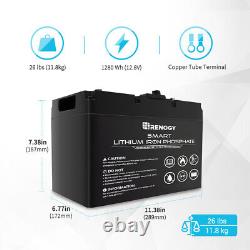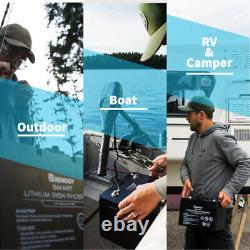 Replacement orders cannot be expedited. At Renogy, we work hard to ensure a positive shopping experience with us. Return requests outside of 30 days require special authorization. 12V 100Ah SMART LiFePO4 Lithium Iron Battery. The Renogy Smart Lithium Iron Phosphate Battery enables the auto-balancing among parallel connections and provides more flexibility for the battery bank configuration. The integrated battery management system (BMS) not only protects the battery from various abnormal conditions but monitors and manages the charging and discharging process. The state-of-the-art battery cells ensures an extended cycle life and exceptional discharge performance. With built-in intelligent self-heating, the battery is rechargeable even in low-temperature conditions. If you're searching for a deep cycle battery for caravan, cabin, or marine use, then this lightweight, auto-balanced, ultra-safe, long-cycle-life lithium battery is the perfect plug-and-play solution for you! The Renogy Monitoring Screen for Smart Lithium Battery Series is a high precision meter designed for Smart Lithium Iron Phosphate Batteries in off-grid energy storage systems.
Instead of measuring the current flowing in/out of the battery bank using a shunt, it can communicate directly with the battery management system (BMS) and obtain more accurate state of charge (SoC) readings compared to traditional battery monitors. Other battery bank information including voltage, current, capacity, remaining time, warning code, and number of paralleled batteries are also available on the monitoring screen to help users avoid abnormal conditions and extend the lifetime of battery bank. Please secure all cable connections to the proper specification in order to ensure good contact between the cable lugs and the terminals. Over-tightening cable connections can cause terminal breakage and loose cable connections can cause terminal meltdown or fire. DO NOT string the battery in series.
Please avoid too high a voltage difference between paralleled batteries, despite the auto-balancing function, to avoid triggering the over-current protection. Renogy LiFePO4 battery has a minimum 4000 cycles time which delivers up to 8 times longer than a lead-acid battery. Moreover, with the incredible energy density of the battery, Renogy LiFePO4 battery is thin and light with immense power. Pro BMS, Precise and Magical.
Powered by an upgraded intelligent BMS circuit, the battery will guarantee balance between each battery cell group, and features the most preceise temperature measurement discrepancy of its kind. This battery will more accuratlet display and protect the battery from over-voltage, under-voltage, over-current, short circuit, high temperature, and low temperature. Regardless of the production, use, or scrap, it does not contain or produce any toxic and harmful heavy metal elements and substances such as lead, mercury, and cadmium. Renogy 100ah LiFePO4 battery is made from 100% safe, nontoxic, and renewable energy.
Our LiFePO4 battery is only a third of the weight of Lead Acid while providing a massive boost to performance and capacity so you won't miss a single second of runtime. Renogy's LiFePO4 battery is your best choice for RVs, Marine and Off-Grid Applications when towing or mobility is in consideration. Meet our revolutionary self-heating function. This technology allows you to charge your batteries in cold environments effortlessly.
When connected to an input, the self-heating function will start operating automatically once the battery temperature drops below 41°F(5°C). With the improved RS485 UP Communication Port, your batteries will be able to communicate and transfer data in real time. Renogy 12V 100Ah Smart Lithium Iron Phosphate Battery w/ Self-Heating Function.
500V DC, = 10 MO. Cycle Life 0.2C, 25? 11.4 x 6.8 x 7.4 inch / 289 x 172 x 187.5 mm. UN38.3, MSDS, UL1642, UKCA, PSE, FCC (Lithium Cell). Renogy 12V 100Ah Smart Lithium Iron Phosphate Battery. 2 Front Panel Menu Buttons, 1 Power Button.
2.76 x 4.33 x 1.25 inch / 70 x 110 x 31.8 mm. 0.14 lbs / 62 g. What are Renogy battery's greatest advantages? Firstly, our batteries use the most up to date pouch cell technology.
Currently, there are a few battery brands on the market using pre-used battery cores, these have a negative impact on the battery's life span and present safety risks. In addition, Renogy batteries feature, self-heating functions, an auto-balancing system and an advanced and efficient BMS system.
What is the specific soft package cell mentioned just now? Soft package cell refers to the use of aluminum-plastic film as the packaging material of the cell. At present, the vast majority of lithium-ion batteries on the market still use metal shell cells. Compared with the metal shell of the same capacity, the soft pack battery is light in weight and has good cycling performance. When safety problems occur, gas and heat can be released through the sealing mouth to avoid the further triggering reaction.
Steel and aluminum cells have the possibility of explosion. What does the external battery switch do?
Our battery is connected with a battery switch, which can turn off the battery and the BMS system with one key when the battery is not needed to work, reducing the self-consumption of the battery, making it safer to store, and protecting the battery life. How long will your battery last? Our battery is capable of 4000 cycles of perfect charge and discharge, after which the efficiency of the battery will drop to 80% of the factory performance, but it is still very good for your use. If you live a completely off-grid life, calculated at the rate of a full charge and discharge per day, you will be able to use it for more than 10 years. How many batteries can I connect to at most? Please connect your batteries in parallel, we recommand a maximum of 4 batteries in parallel, and our automatic battery balancing system allows you to achieve parallel safely. This item is in the category "Sound & Vision\Multipurpose Batteries & Power\Rechargeable Batteries". The seller is "renogysolar-uk" and is located in this country: GB.
This item can be shipped to United Kingdom.
Options: 100Ah w/Self-heating battery
Power Source: Solar
Type: Lithium Battery
MPN: RBT100-LFPS-UK
Battery Size: 12 V
Brand: Renogy
Amp Hours: 100 Ah
Chemical Composition: Lithium