3/5M Twin Leisure Battery Split Charge Relay Kit 12V 140A VSR For Camper Van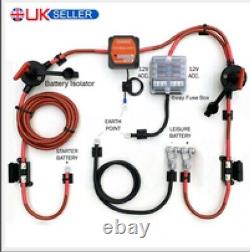 3/5M Twin Leisure Battery Split Charge Relay Kit 12V 140A VSR For Camper Van. Dual Battery Isolators / Voltage Sensitive Relays have been specifically designed for a wide variety of 12V applications. Dual Battery lsolators sense the input voltage generatedand automatically connect/disconnect the appliance or circuit at pre-set voltages, eliminating the possibility of discharging the primary starting battery.
Constructed with a weatherproof body (IP65) and durable silver tipped contacts. Dual Battery Isolators also feature surge protection and a L. D indicator designed to alert the user when the unit is engaged. Dual Battery Isolators are ideal for dual battery set-ups asthey enable two batteries to be charged at the same timeand then isolates the batteries from each other when the vehicle is turned off, ensuring your starting battery isalways charged and ready to go.
Designed for dual battery systems. Suitable for most 12V charging systems- Surge protection.
Automatically sensing voltage level of main battery. Cut In Voltage: 13.3V. Cut Out voltage: 12.8V.
This type of kit is suitable for Camper Vans, Motor homes, 4x4s, Day Vans, Mobile workshops, Cars or Boats(euro 6 vehicle which have smart alternator may not suitable). Voltage sense systems are especially suited for modern vehicles with canbus controlled wiring as this type of kit does not need an ignition feed or any additional wiring and are very simple kit to install, all you need to do is to connect your starter battery to your leisure battery(s) by using the kit supplied, with very easy to understand fitting instructions and a wiring diagram. The voltage sense relay simply detects the rise in voltage from you vehicles charging system to allow you to charge your leisure battery(s) while your engine is running. When your engine is switched off, the relay will isolate your leisure battery(s) from your main starter battery. So it does not drain your main starter battery and you will always be able to start your vehicle.
3mtr 12v Split Charge Relay Kit. Package Includes: (You will be supplied with everything you need to fit this kit).
12v 140amp Intelligent Voltage sense Split Charge Relay. 1 Pair 8mm Post Type Battery Terminals.
2 x MTA Midi Fuse holders. 4 x 60A MTA Midi Fuses including 2 spares. 10 x Cable Crimps Terminals Connectors. Heat shrink tube to protect all the connections. 10 x adhesive cable tie fixings base to keep everything tidy. Easy to understand Fitting Instructions + after sales support if required.
5mtr 12v Split Charge Relay Kit. 7mtr 12v Split Charge Relay Kit. 5M Split Charge Relay Kit with 6way fuse box.
6way Fuse Box with 12 fuse blades & Label Stickers. 2x 200A Battery Isolator Switch with two keys. Heat shrink to protect all the connections. We appreciate your business and strived to improve our customer service and our commitment to quality.