12V 160AH Expedition Plus Lead Carbon Gel Ultra Deep Cycle Battery (EXP12-160C)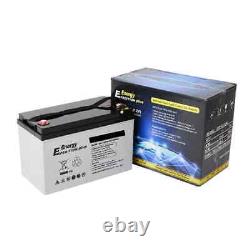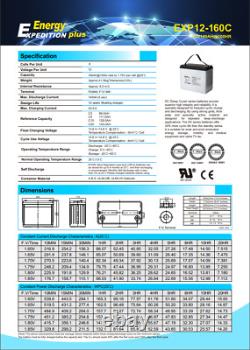 Trained advisors waiting to take your call. Car Batteries by Make & Model.
Car Batteries by Part number. A family run business with a wealth of knowledge and expertise. 12V 160AH Expedition Plus Lead Carbon Gel Ultra Deep Cycle Battery (EXP12-160C). Ultra Deep Cycle Lead Carbon GEL Battery. 12V Xplorer 110AH AGM Caravan Leisure Battery UItra Deep Cycle.
12V 160AH EXPEDITION GEL LEAD CARBON ULTRA DEEP CYCLE BATTERY (EXP12-160C). DC-C series lead-carbon batteries use functional activated carbon and graphene as carbon materials, which are added to the negative plate of the battery to make lead carbon batteries have the advantages of both lead-acid batteries and super capacitors. It not only improves the ability of rapid charge and discharge, but also greatly prolongs the battery life, more than 1500 cycles at 50%DOD. Scientists and researchers in electrochemical energy storage learned that by adding a small amount of carbon to the traditional GEL lead-acid battery, that they can significantly increase the lifespan of the lead carbon battery allowing more recharge cycles.
This eliminates or greatly reduces the crystallization from taking place within the Lead Carbon Batteries. Lead Carbon Gel batteries are true "deep cycle" and can completely re-charge from 4 to 10 times faster than regular lead acid batteries. 99% high purity Lead Carbon GEL technology. Totally sealed for life - dry-cell, unspillable and safe. Partial State of Charge (PSOC) resilient (avoiding sulphation).
Superior performance in extreme temperatures. Up To 1500 cycles - over 20 x the cycles of standard Flooded Batteries. High power and energy density with small footprint.
Made in Vietnam by Ritar International. Ritar Power is a professional battery company listed in NASDAQ. Established in May 2002, Ritar manufactures and sells environmentally friendly Lead Acid batteries and Lithium batteries. Now Ritar covers battery, battery charger, handset screen, etc.
And has developed into a large-scale multiplication enterprise group. Ritar has been a leading company of the new energy industry in China.
Ritar power is a high-tech enterprise headquartered in Nanshan District, Shenzhen, China and has 3 manufacturing bases in Shenzhen, Hengyang (China) and Vietnam, with over 2,000 employees, producing full range of AGM, GEL, Deep Cycle, Lead Carbon, OPzV, OPzS, Traction (DIN/BS) Lead Acid batteries and Lithium batteries for all kinds of industrial applications like Solar Systems, UPS, Telecom, Data Centers, Rail Transit, Motive Vehicles, etc. The amount of useable energy and cycle life will vary due. To multi applicational factors, usage pattern, discharge times, charging, maintenance and climatic conditions. A battery can deliver only a fixed amount of Energy and capacity over its life which will occur over different periods of time depending on the application and conditions.
Suitable for use with motor mover? Positive on Left (Layout 1). Bolt Through Terminals (Type 2). 13.6v - 13.8v. It is the customers responsibility to check the dimensions, terminal layout and type before ordering.
Please carefully check your existing battery or tray to ensure compatibility. All batteries arrive fully charged and ready to fit and are packed securely.
Delays can occur from time to time with factors beyond our control. Our dedicated tracking team will try to resolve any issues that may arise. Some Scottish Highlands and Northern Ireland postcodes will incur a deliver surcharge (see below). As eBays longest online running battery company we pride ourselves on customer service and dedication in getting the battery to you as soon as possible. Leaving a telephone number makes it much easier to sort any deliver problem out. The Following Postcodes carry a surcharge BT, KA, KY, AB, IV, PH, PA, HS. We do not deliver to Isle of Mann or Ireland.
We can however deliver pallets. Please note all batteries tested locally must be fully charged. Alpha batteries are not responsible for the return of goods. Damage due to improper installation; loose terminal connections, under-sized cabling, incorrect connections (series or parallel where not specifically supported), short circuits or reverse polarity connections. The suggested capacity and cycle life is based on laboratory test conditions.
The amount of usable energy and cycles over the course of time will vary due to applicational factors, usage pattern, discharge time, charging, maintenance & climatic conditions. Upon inspection, an industry recognised MK International capacity tester will be used and the results emailed to you. We can only accept the deemed cyclic usage the battery has placed under via detailed battery monitor and shunt data which records your cyclic demand.
Environmental damage; inappropriate storage conditions; exposure to extreme hot or cold temperatures, fire or freezing, or water damage. Discharging or an open circuit voltage reading below 10.5v (fully discharged). Damage caused by incorrect charging including the use of unsupported lead acid only chargers and split chargers that are not optimised for GEL charging or charged at a voltage or current that exceeds or falls below the recommended parameters as described.
Mains charging of the product is required periodically using a suitable and compatible charger (matching charge profile) with at least 10% of charge current to battery capacity. For example, 10 amps of charge current for a 100ah Battery.
Damage due to improper maintenance; under- or over-charging the Product, dirty terminal connections, impact damage or collision. Batteries below 10.5v is an indication of over discharge and abuse. Batteries can not self discharge below 10.5v and can only be caused by over discharge via an electrical drain when idle or insufficient charging. Modern smart chargers will not recover batteries below 10.5v as they require a minimum voltage in the battery to operate. This is not a fault with the battery.
C20 capacity values to be used only. Details of C discharge values can be found on the product specifications. Thermal Runaway caused by overcharging or poor connection which will manifest itself by swollen cells and lids. Faults and manufacturing defects can occur with any electrical device and we aim to make the process as simple and pain free as possible.
Alpha Batteries guarantees to give a free repair or replacement with defects proven to be due to manufacturing process (instead of customer abuse and misuse, loss of capacity and running time or general wear and tear). We can talk you through a few simple tests that will help identify any issues. If we cannot resolve the problem remotely then we will arrange to collect the battery from you, or you can arrange the return yourself and return to our warehouse for testing. We can not be held responsible for downtime or costs incurred due to being without the product.
Batteries must be suitably packed and secure for transport. If we cannot reproduce the problem, there is a loss of capacity but the battery holds charge or if the defect or failure is found to have been caused by customer abuse or misuse then we will return the battery to you, or if you prefer, we can recycle the battery.
Depending on the state of the battery, we may be able to offer a credit towards an upgrade. 12v 629 Heavy Duty Tractor Battery. 12V VARTA TYPE 630 HEAVY DUTY COMMERCIAL.. LANDROVER DISCOVERY DIESEL BATTERY 04-11... Deal Pair 2 x 12V Ultra Plus 220AH Leisu.. SEALED CALCIUM 12V XPLORER 190 AH LEISUR.. 12V 200W Xplorer German Cell Solar Panel..
12V 150W Xplorer German Cell Solar Panel.. 12V Ultra Plus 220AH Leisure battery. 12v Xplorer 220AH Sealed Deep Cycle Leis..
6 Volt Leoch (TROJAN) T145 260 AH Tracti.. Get in touch with us.