12.8V 20Ah 30Ah 50Ah 100Ah 150Ah Lithium LiFePO4 Leisure Battery BMS RV Solar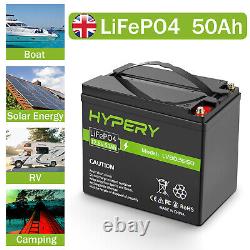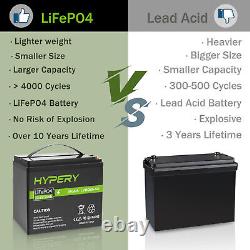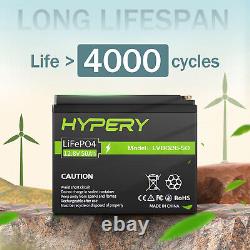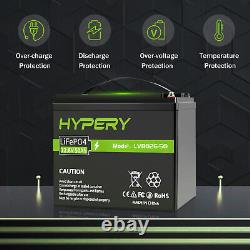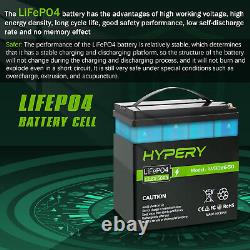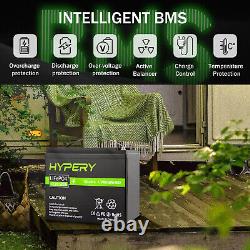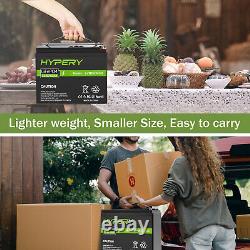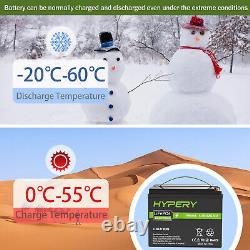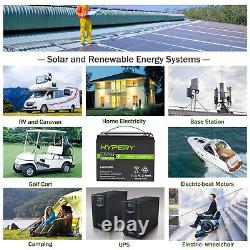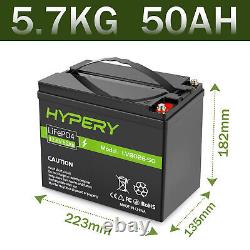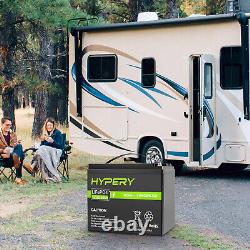 12V 50Ah 100Ah Lithium LiFePO4 Battery BMS Deep Cycle Leisure RV Solar Off-Grid. Battery Cell Grade: Grade A.
Recommended Charge Voltage: 14.4V - 14.6V. BMS Discharge Cut-off Current: 30A(1S). Size: 181 x 77 x 170 mm. BMS Discharge Cut-off Current: 40A(1S).
Size: 223 x 95 x 175 mm. BMS Discharge Cut-off Current: 100A(10S). Size: 223 x 135 x 182 mm.
BMS Discharge Cut-off Current: 180A(10S). Size: 328.5 x 172.5 x 214 mm. BMS Discharge Cut-off Current: 200A(10S).
Over 10 Years Service Life >4000 Cycles. In order to achieve a stable power supply even under heavy load, lithium batteries are definitely the best alternative to lead-acid batteries. Hypery lithium iron phosphate is able to be recycled for up to 4000 times.
The service life can reach to over 10 years typically. Smaller Size and Lighter Weight.
It's only 1/3 of the weight of a lead-acid battery, easy to move and install. It is an ideal choice for outdoor camping power supply and simple indoor installation. With built-in LCD display, real-time display of battery capacity usage.
(For 100Ah and 150Ah battery only). LifePO4 Battery does not have memory effect, even if they are not fully charged or discharged for a long time, they won't leave traces and reduce the battery capacity. High Speed Charge and Discharge. High charging and discharging rapidly charging and discharging are possible. Greater capacity, smaller weight and volume.
The Smart Battery Management System(BMS). The Smart Battery Management System(BMS) provides comprehensive protection for the battery and intelligently managers the charge/discharge process. It can protect it from overcharge, deep discharge, overload, overheat, short circuit, and low self-discharge rate. About BMS(Battery Management system). The battery management system monitors and controls each unit of the battery to ensure the battery shuts down in the event if undervoltage or overload, and restarts automatically once the problem is resolved to avoid being damaged. Important functions of the BMS. When overcharging occurs, the BMS will turn off the battery output to protect the battery. Each cell in the battery individually monitors the battery discharge. If this turns off the battery output, the only way to turn the battery back on is to charge it. The total charging voltage of the LiFePO4 battery is 14.6V(the charging voltage of a single cell must not exceed 3.65V/cell). Therefore, it is the best to use a suitable charger with a final charging voltage of 14.4V to 14.6V to charge the LiFePO4 battery.
The built-in active balancer can adjust the battery at any time to ensure the internal small batteries(cells) have the same voltage and prolong battery life. BMS always monitors and controls all parameters for reliable and safe charging. If something goes wrong, you can prevent charging by turning off the battery output to protect the battery. When the battery temperature is too high/low, the BMS will turn off the battery. At this time, you need to wait for the temperature return to normal first, and then BMS will enable the output again.
How to place the battery? The lithium battery is free from lead-acid battery safety issues such as battery leakage and battery corrosion, so you can place it in any positions with cool and try conditions, please do not expose it to high temperatures or direct sunlight. Please remember to keep it dry and clean after every use. Is there any possible to used it once after received it? But due to the safety of transportation, the pre-charged capacity won't exceed 50%. Do not short-circuit the positive and negative terminals of the battery.
Please keep the battery away from water, heat, sparks and harmful chemicals. Do not expose the battery to high temperatures or direct sunlight. Do not puncture, drop, squeeze, incinerate, shake or hit the battery.
Do not disassemble or assemble the battery. 14.4V - 14.6V. 181 x 77 x 170. 223 x 95 x 175.
223 x 135 x 182. 328.5 x 172.5 x 214. International Buyers - Please Note. We understand that sometimes an item may not turn out to be just what you need.
DO NOT send without communication. 20 years of Research & Development and manufacturing experience makes us more professional on quality control, user experience and after-sale services. If you have any problem with the item or the order, pls feel free to contact me, we will reply you asap after we read it. It's just take you 1 minute. This item is in the category "Home, Furniture & DIY\DIY Materials\Electrical Supplies\Alternative Energy Supplies\Solar Power Supplies\Solar Panels & Kits".
The seller is "wonderfulshop2019" and is located in this country: GB. This item can be shipped worldwide.
Capacity: 1 x 50Ah Battery
Material: LiFePO4
Brand: Hypery
Type: LiFePO4 Battery
Power Source: Solar
System Configuration: Off-Grid
Wattage: 640Wh(50Ah);1280Wh(100Ah)
Features: Corrosion Resistant, Portable, Smart Module, Battery Temperature Protection, Smart BMS Built-in, Fast Charing and Discharging
Application: Agriculture/Farming, Automotive, Back-up Power, Camping/Hiking, Commercial, Electronics, Home/Garden, Marine, Recreational Vehicle (RV)
Resistance Properties: Dustproof, Dust Resistant, Fade Resistant, Heat Resistant, Impact Resistant, Scratch Resistant, Waterproof, Tear Resistant, Weatherproof, Weather Resistant
Current Type: DC
Solar Technology: Amorphous (Thin-Film)
Voltage: 12.8V
Current Output: 50A/100A
Power: 640Wh(50Ah);1280Wh(100Ah)
Charging Mode: PWM (Pulse Width Modulation)
Current Rating: Greater Than 10 A
Model: HY-VB026-50(50Ah); HY-VB018-100(100Ah)
Pliability: Rigid
Colour: Black
Recommended Environment: Indoor/Outdoor
Country/Region of Manufacture: China
Protection Properties: Discharge Protection, Lightning Protection, Low Voltage Protection, Overcharge Protection, Overcurrent Protection, Overvoltage Protection, Short Circuit Protection
Unit Type: Unit
Custom Bundle: No
Size: 223 x 135 x 182 mm(50Ah);328.5 x 172.5 x 214 mm(100Ah)
Item Length: 223mm(50Ah); 328.5mm(100Ah)
Unit Quantity: 1 piece