Ultramax LI40-12, 12v 40Ah Lithium Phosphate LiFePO4 Battery For Leisure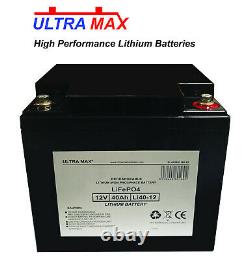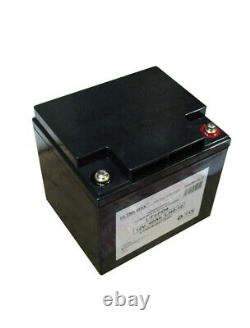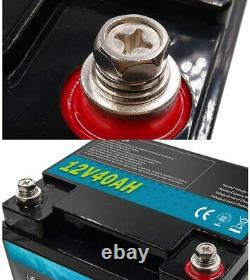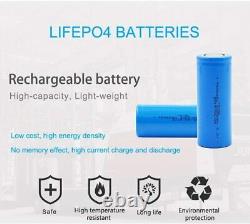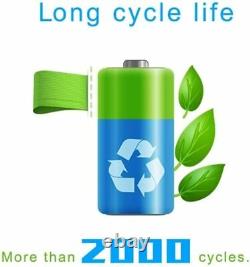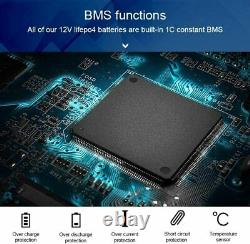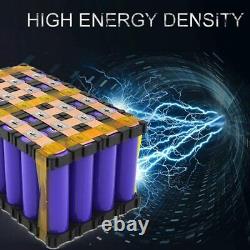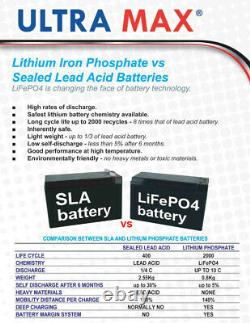 IT WEIGHTS IN AT ONLY 5.5 KILO. & LASTS UP TO 10 X LONGER. Electric golf carts, Buses, Electric Cars, Sightseeing Cars and Hybrid vehicles. Electric Bicycle, Small Flat Electric Car, Forklift, Cleaning Vehicles, Electric Wheelchair.
Electric Drill, Electric Saw, Lawn Mower. Remote Control Cars, Boats, Aircraft and other Toys. UPS and Emergency Lights, Warning Lights, Miner's Lamp (best safety).
Electric Bicycle, Electric vehicle, Electric Tricycle, Electric scooter, Electric golf trolley, Electric car, Electric wheelchairs, two wheel vehicles and etc. PV Solar panel for solar off-grid and tied-grid systems. The batteries used to store solar and wind energy are currently mainly lead-acid batteries. Short lifespan and low cycle number of lead acid batteries make it a weak candidate for environment and cost efficiency. Lithium-Ion batteries allow to equip solar or wind off-grid power stations, replacing the legacy banks of lead-acid batteries. To be even more cost-effective, LiFePO4 batteries are among the longest lived batteries ever developed. Test data in the laboratory show up to 2000 charge/discharge cycles. These batteries are also excellent for use in motorcycles, snowmobiles, jet skis, Motorhomes, Leisure, Marine, Caravan, Mobility Scooters, Toy Car, Electric Bike, etc. Because they do not need maintenance during the off season. There is no equivalent to sulfation and the batteries can be stored in any state of charge without worry of degradation. We recommend 50-100% charge before storage. Another advantage is that running the battery completely down i. Leaving the parking light on for a week will not damage the battery at all, unlike the SLA and Gel batteries, since it has a low-voltage disconnect circuit. LITHIUM IRON PHOSPHATE / LiFePO4 BATTERY. Complete with Fast Lithium battery Charger. Can be used anyway around as it is non spillable. Must be stored in charged condition.
You can now enjoy a lightweight battery that will simply drop in as a direct replacement for your traditional lead acid battery on any application. It weighs in at 5.5kg and measures just 195mm x 165mm x 175mm (7.6" x 6.4" x 6.8), that's less than 1/4 of the weight of a traditional lead acid batter y. The Ultra Max Lithium Battery is supplied fully protected by a sophisticated specially designed In-Built lithium battery management system that constantly monitors every cell to ensure the battery is always optimized for best performance and life. Also supplied with its own lithium charger that fully charges the battery in around 10 hours from flat. The advantages of a LiFePO4 Lithium Iron Phosphate battery over conventional lead-acid batteries.
High energy density: more energy with less weight. High charge currents (shortens the charge period).
High discharge currents (enabling for example electrical cooking on a small battery bank). Long battery life (up to six times the battery life of a conventional battery). High efficiency between charging and discharging (very little energy loss due to heat development). DIMENSIONS: L 195mm x W 165mm x H 175mm inc posts. It is the customers responsibility to check against the current battery specification before ordering.
Fully Sealed (cannot spill) - Rechargable - Deep Cycle LITHIUM battery. Suitable for cyclic and standby power applications.
Can be used in any position. Excellent recovery from deep discharge. Low self discharge of just 3% per month. Terminals are Internal Threaded connectors - Bolts and Nuts included.
We are only human, and occasionally things do go wrong. So please give us a chance to sort it out first. The item "Ultramax LI40-12, 12v 40Ah Lithium Phosphate LiFePO4 Battery For Leisure" is in sale since Wednesday, October 14, 2020. This item is in the category "Sound & Vision\Multipurpose Batteries & Power\Rechargeable Batteries". The seller is "cameraexperts1" and is located in Edmonton, London.
This item can be shipped to United Kingdom.
Type: 12 V
MPN: LI40-12
Battery Size: 24 V
Brand: Ultramax
Application: High Drain Devices
Amp Hours: 42 Ah
Chemical Composition: Lithium Iron Phosphate (LiFePO4)
Voltage: 12 V