Leisure Battery Split Charge Relay Kit 12V 140A VSR Sense Camper Van Ready Cable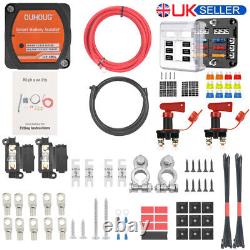 Leisure Battery Split Charge Relay Kit 12V 140A VSR Sense Camper Van Ready Cable. New Upgrade Function compared to old version split charge relay. Monitor the voltage in real time via the voltimeter on the split charge relay.
Shut down the split charge relay via power button. Reverse charging via split charge relay.
The switch can be turned off under special circumstances to prevent the isolator from working. All of function is kept from the previous generation split charge relay as below. Allows split charging of second battery bank without discharging the primary/start battery, relay makes at 13.3 volts and breaks at 12.8 volt. L68 x w 54 x h 68mm. This type of kit is suitable for Camper Vans, Motor homes, 4x4s, Day Vans, Mobile workshops, Cars or Boats.
Voltage sense systems are especially suited for modern vehicles with canbus controlled wiring as this type of kit does not need an ignition feed or any additional wiring and are very simple kit to install, all you need to do is to connect your starter battery to your leisure battery(s) by using the kit supplied, with very easy to understand fitting instructions and a wiring diagram. The voltage sense relay simply detects the rise in voltage from you vehicles charging system to allow you to charge your leisure battery(s) while your engine is running. When your engine is switched off, the relay will isolate your leisure battery(s) from your main starter battery.
So it does not drain your main starter battery and you will always be able to start your vehicle. The kit includes comes pre-assembled with terminals. 12v 140amp Intelligent Voltage sense Split Charge Relay with Digtial LED Voltimeter Display. 2 x 250mm red 70amp cable from Battery to fuse holder leads. 1 x 500mm red 70amp cable Relay to fuse holder lead.
1 x 2/4/6 metre (For 3/5/7m kits) 70amp Relay to fuse holder lead. 1 metre 70amp of Black earth cable.
1 Pair 8mm Post Type Battery Terminals. 2 x MTA MIDI Fuse holders.
4 x 60A MTA MIDI Fuses including 2 spares. Red&Black Heat shrink to protect all the connections. 10 x adhesive cable tie fixings base to keep everything tidy. Easy to understand Fitting Instructions + after sales support if required. The 3/5/7 mtrs of Red cable supplied in this kit are made up of the 4 separate leads (such as 3mtr: it was separated to 2M+20.25M+0.5M) which is pre-assembled with terminals as described above.
Choose the correct meter for yourself in case short of wire. Please note: we only send the item to you base on your selection, please noted! We appreciate your business and strived to improve our customer service and our commitment to quality.