12V 110AH Solar Leisure Battery Low Height L354mm X W175mm X H190mm SB LH110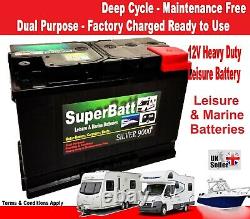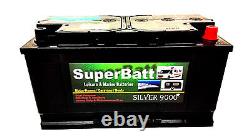 SuperBatt SILVER 9000 [Super Excellence]. Batteries are built to the very highest of specifications to cope with today's Leisure & Marine electrical demands. MotorHomes, Caravans & Boats are getting more complex with sophisticated Luxury that they requires premium performance Batteries to meet their high electrical demands. Brand promises the best performance and Long Life, no matter how harsh the conditions.
SuperBatt Leisure & Marine battery range is designed with Advance Calcium Technology which makes them Maintenance Free and give Longer Life compare to conventional Leisure & Marine batteries. SuperBatt Leisure & Marine battery range is designed for both MotorHomes (Caravans) & Boats. These batteries are Dual Purpose Batteries as they are. Perfect for all types of leisure and marine Starting & Auxiliary use. Dual Purpose (Starting & Auxiliary) Deep Cycle Battery.
Perfect for All types of Leisure & Marine Auxiliary Use. Maintenance Free with Advance Calcium Technology.
Designed for all climates (This battery can withstand severe temperatures). Genuine & Top Quality best Battery in its Range.
Heavy Duty Long Life Battery. Low self discharge rate giving extended shelf life. Standard Leisure round terminals (Posts).
Low Height / Low Profile Battery (L 354mm x W 175mm x H190mm). Height: 190mm (Height is including Terminals / Posts). To charge this battery with a solar charger, we recommend 12V 200W mono-crystal fully automatic intelligent connect and forget solar charger or better. On dark or cloudy days or in winters please must use the 12V 10A automatic intelligent mains powered smart battery charger.
This is a high performance Wet Cell Flooded Lead Acid Battery with Advance Calcium+ alloy Technology. Leisure Battery Care & Maintenance. Leisure batteries are manufactured to the very highest of standards, but to get the very best performance, and longevity out of your batteries it is well worth following a simple care and maintenance program. Always recharge your battery as soon as you can after use after discharge and keep it as fully charged as possible during long periods of in-activity.
Please must use Continual Automatic chargers with these batteries such as NUMAX 12V 10A DC Fully Automatic Intelligent Connect & Forget Leisure Battery charger can be left attached to the battery for long periods and will look after your battery at correct state of charge until you need it next. Avoid completely discharging your battery (Below 10.5V) as this will reduce its cyclic lifespan. When the battery is out of the caravan/motor-homes etc. Always store it in a cool, dry and well ventilated place. From time to time make sure the terminals are free from dust and dirt, and all connections are sound.
Please must not use Trickle charge with these batteries. An equalizing charge for a 12volt battery required that it be charged with a voltage of at least 14.4 volts for a period of at least one hour once a month, or every 10 discharge cycles. An equalizing charge prevents battery stratification and reduces sulfation, the leading cause of battery failure. Reduced performance can also be an indicator that an equalizing charge is needed. All batteries, regardless of their chemistry, will self-discharge. The rate of self-discharge for lead acid batteries depends on the storage or operating temperature. At a temperature of 80 degrees F.
A lead acid battery will self-discharge at a rate of approximately 4% a week. Keeping this in mind if a 125 AH battery is stored for four months (16 weeks) winter without being charged, it will lose 80 amps of its 125-amp capacity.
It will also have severe sulfation, which causes additional loss of capacity. Keep your batteries charged while not in use. Please note the advice given from Starter Batteries customer services regarding suitable products should be treated as a guide only. If goods prove to be damaged, do not sign. All Batteries warranted against premature failure due to manufacturing or material defects only.
Warning:-Remove bungs (plugs) immediately after receiving the battery or batteries (All types of flooded lead acid batteries) even in storage condition. Bungs (Plugs) are only for transportation use.
If these instructions are not followed(removing bungs immediately) battery may get bulged or explode. INHALATION - Remove from exposure, rest and keep warm.
EYE CONTACT - Wash out with plenty of water for at least 15 minutes. SKIN CONTACT - Remove contaminated clothing immediately and wash affected skin with plenty of water. INGESTION - If the electrolyte has been confined to the mouth give large quantities of water as mouth wash ensuring that it is NOT swallowed.
If electrolyte has been swallowed, give water to drink immediately. BURNS - Apply sterile bandage.