5mtr Twin Leisure Battery Split Charge Kit 12V 140a VSR 110a Ready Made Leads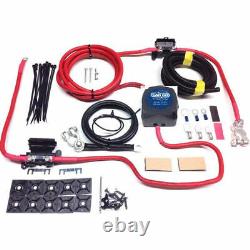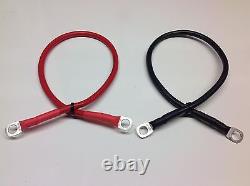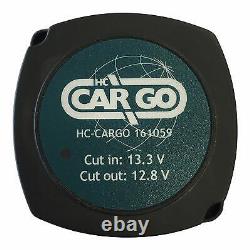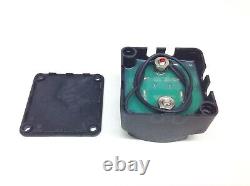 5mtr Heavy Duty Twin Battery Split Charge Kit with HC Cargo 161059 140amp Voltage Sense Relay + 110amp Ready Made Leads. Top quality heavy duty split charge relay system supplied with a HC Cargo 12 volt 140amp intelligent voltage sense relay and ready made 110amp 16mm²leads to simply install and safely charge up 2 x 115ah leisure battery(s). Suitable to install into most Camper Vans, Motor homes, 4x4s, Day Vans, Mobile workshops, Cars and Boats. You will be supplied with everything you need to fit this kit. 12V 140amp HC Cargo 161059 Voltage sense Split Charge Relay. 2 x 250mm Red 110amp cables Starter and leisure battery to fuse box leads. 1 x 4000mm Red 110amp cable fuse box to relay lead. 1 x 500m Red 110amp cable relay to fuse box lead. 1 x 1mtr 110amp black earth Cable.
2 Pairs Positive & Negative 8mm post type battery terminals. 1 X Pair 500mm Leisure battery link leads.
2 X Fuse Holders & 100A Fuses including spares. 15 x Cable ties + fixings to keep everything tidy. 2mtrs Split conduit to protect cables in Engine bay.
Screw to fix fuse boxes & cable tie bases. Easy to understand Fitting Instructions. XX Please note that extra battery terminals + link leads are not shown in the main picture XX.
This type of split charge system is our simplest to install split charge system. All the leads are supplied ready made up for you to a very high standard. Simply install the two fuse boxes and the Voltage sense relay using the fixings supplied. Then simply connect all the ready made leads, following the very easy to understand supplied fitting instructions to install this very high quality and simple to install split charge system.
The voltage sense relay simply detects the rise in voltage from you vehicles charging system when it exceeds 13.3v to allow you to charge your leisure battery(s) while your engine is running. When your engine is switched off and the battery voltage drops below 12.8v the relay will isolate your leisure battery(s) from your main starter battery so it does not drain your main starter battery and you will always be able to start your vehicle. All of the range of 140amp voltage sensitive relays are dual sensing meaning that if a charging voltage like through a mains charger or solar panel is applied to the leisure battery that exceeds the relay activation voltage of 13.3v it will activate the relay to allow this charging device to also maintain the starter battery. Relay activation voltage 13.3v.
Relay isolation Voltage 12.8v. Voltage sense relay systems are very simple to instal into most older vehicles as they do not require an ignition feed or any additional wiring into your vehicles electrics. For modern vehicles with a smart alternator or stop start features in Euro 5 & Euro 6 engines you will need to use a DC to DC charger. It is also recommended to use a DC to DC charger for charging AGM, GEL & Lithium batteries.
Our aim at Simply Split Charge is to supply you with the best, top quality Split Charge kit available, at the best price we can. All the components in all of our split charge relay Systems are all fully E-approved and Tested top quality UK supplied parts. In all of our kits you will find everything you need plus spares to install any split charge system to any vehicle with our help and support if required.