12v 90ah Expedition Plus Agm Leisure Battery (exp12-90)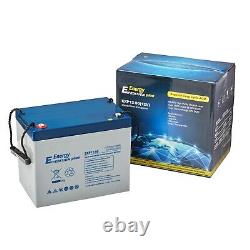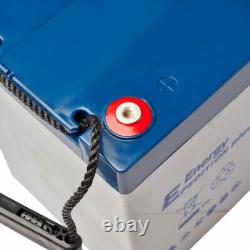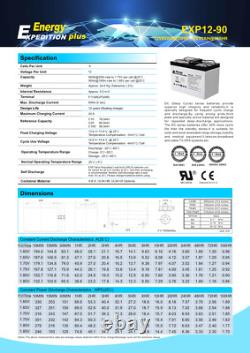 Trained advisors waiting to take your call. Car Batteries by Make & Model. Car Batteries by Part number. A family run business with a wealth of knowledge and expertise. 12V 90AH EXPEDITION PLUS AGM LEISURE BATTERY (EXP12-90). 12V Xplorer 110AH AGM Caravan Leisure Battery UItra Deep Cycle. 12V 90Ah fit-and-forget AGM lead-acid battery for leisure, marine & many other deep cycle applications - from Expedition's exclusive battery range. Absorbed Glass Mat technology (great durability and vibration-resistance).
Totally sealed for life - dry-cell, unspillable and safe. Minimal self-discharge - ideal for seasonal use.
Specifically designed for cyclic use over sustained periods of time (deep-cycle). Power demand level of intended application: Medium (casual to regular usage). 99.99% pure primary lead (PPL) for faster charging, better performance & a cleaner environment. M6 Screw down bolt fixings supplied.
If you require round posts (car type) these can be supplied. Please see our accessories section. Absorbed Glass Mat (AGM) batteries are dry-cell, with the battery acid being encapsulated in fibreglass sheets. In comparison to flooded batteries, AGMs offer increased levels of reliability and versatility - with no free acid, they can be mounted in any orientation and are better able to handle vibration. Please ensure your charging method can accommodate AGM batteries as charging at non-AGM charge settings can adversely affect the life of the battery.
Bolt Through Terminals (Type 2). Positive on Left (Layout 1). It is the customers responsibility to check the dimensions, terminal layout and type before ordering. Please carefully check your existing battery or tray to ensure compatibility.
All batteries arrive fully charged and ready to fit and are packed securely. Delays can occur from time to time with factors beyond our control. Our dedicated tracking team will try to resolve any issues that may arise. Some Scottish Highlands and Northern Ireland postcodes will incur a deliver surcharge (see below).
As eBays longest online running battery company we pride ourselves on customer service and dedication in getting the battery to you as soon as possible. Leaving a telephone number makes it much easier to sort any deliver problem out.
The Following Postcodes carry a surcharge BT, KA, KY, AB, IV, PH, PA, HS. We do not deliver to Isle of Mann or Ireland. We can however deliver pallets.
Please note all batteries tested locally must be fully charged. Alpha batteries are not responsible for the return of goods. 12v 629 Heavy Duty Tractor Battery. 12V VARTA TYPE 630 HEAVY DUTY COMMERCIAL.. LANDROVER DISCOVERY DIESEL BATTERY 04-11...
Deal Pair 2 x 12V Ultra Plus 220AH Leisu.. SEALED CALCIUM 12V XPLORER 190 AH LEISUR.. 12V 200W Xplorer German Cell Solar Panel.. 12V 150W Xplorer German Cell Solar Panel.. 12V Ultra Plus 220AH Leisure battery. 12v Xplorer 220AH Sealed Deep Cycle Leis.. 6 Volt Leoch (TROJAN) T145 260 AH Tracti.. Get in touch with us.