12V 110AH XTREME XR1750 AGM Ultra Deep Cycle Leisure Battery Unspillable & Safe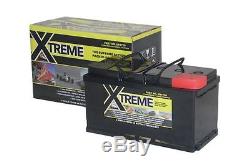 / / / X TREME / / / THE SUPREME ACTION PACKED AGM BATTERY "IF YOU ARE LOOKING FOR IMPRESSIVE POWER, CHOOSE X TREME " Suitable for a host of applications, from action-packed adventures to everyday modern living, Xtreme with its impressive service life and superior charge retention, amongst other features is the premium AGM choice for your power needs. PRACTICAL AND RELIABLE, XTREME COMBINES AN EFFICIENT DESIGN WITH GREAT VERSATILITY, EXCELLING WITH REGARD TO BOTH CRANKING AND DEEP CYCLE RESERVE POWER. CHOOSE XTREME TO DELIVER THE ULTIMATE POWER EXPERIENCE. Supremely versatile, Xtreme can provide both impressive cranking power and deep reserve power to deliver dependable performance across a spectrum of applications. Keeping pace with technological developments in todays vehicles and with a firm eye on the future, the developers of Xtreme have equipped the battery with a robust construction that ensures optimum results on land, sea or snow.
Xtreme is your dependable power partner across leisure and working life. Xtreme batteries are more efficient and effective than spiralwound batteries of equal size. With 15% more plate surface area included in the Xtreme products compared to that in the traditional six pack design, the batteries provide more power and 40% more reserve capacity. The exceptional engine cranking capability of the Xtreme XR1500 delivers pulses exceeding 1500 amps for 5 seconds double or triple the output of equally sized conventional batteries. Xtreme batteries handle temperatures of -40°C - +50°C and extreme terrains with incredible effectiveness. The non-spillable AGM (Absorbed Glass Mat) design ensures ultimate protection against shock and vibration, preserving the integrity of the batteries in even the most adverse environments. Streamline and compact, Xtreme batteries are easily transported and require less storage space. In addition, long storage life, quick charging capabilities and an extended cycle life in comparison to conventional batteries combine with a 3-10 year service life to make Xtreme the battery of choice for the getup-and-go lifestyle. Valve Regulated Lead Acid Absorbed Glass Mat (VRLA AGM) Technology. Screw in Terminal (T6) with Bolts and washers ; with M6 thread.
70% longer lifecycle in comparison to normal conventional batteries. Totally Maintenance Free - Fit & Forget. Vibration Resistant Protects Against Shock. Perfect for All Climates & Extreme Temperatures. Streamline and compact design with Robust construction.
Totally Sealed for Life ; Unspillable and Safe with Spill-proof design. No external leakage or corrosion.
Long service life (3-10 years). Long storage life (12 months before needing charge). Lasts 3 Times Longer than the Normal Batteries. Dual Purpose (Starting & Auxiliary) Battery.
Perfect for All types of Leisure & Marine Starting & Auxiliary Use. Genuine Heavy Duty Long Life Top Quality Battery. 99.99% pure primary lead (PPL) for faster charging, better performance & a cleaner environment. Low Height / Low Profile Battery (L 354mm x W 175mm x H190mm). / /// / Xtreme / /// /.
Cold Cranking Amps Marine Cranking Amps Pulse Hot Cranking Amps. Size (Dimensions) Weight Terminal Type.
L - 353mm x W - 175mm x H - 190mm 22.3KG T6 [Screw in Terminal with Bolts and washers ; with M6 thread]. VRLA AGM Battery Care & Maintenance.
Batteries are manufactured to the very highest of standards, but to get the very best performance, and longevity out of your batteries it is well worth following a simple care and maintenance program. Always recharge your battery as soon as you can after use after discharge and keep it as fully charged as possible during long periods of in-activity. Please must use Continual Automatic chargers with these batteries such as Numax. 12V 10A DC Fully Automatic Intelligent Connect & Forget Battery charger.
Or ABSAAR ATEK 4000 & ATEK 16000 can be left attached to the battery for long periods and will look after your battery at correct state of charge until you need it next. Avoid completely discharging your battery (Below 10.5V) as this will reduce its cyclic lifespan. When the battery is out of the caravan/motor-homes/vehicles etc. Always store it in a cool, dry and well ventilated place. From time to time make sure the terminals are free from dust and dirt, and all connections are sound. Please must not use Trickle charger with these batteries.
An equalizing charge for a 12volt battery required that it be charged with a voltage of at least 14.4 volts for a period of at least one hour once a month, or every 10 discharge cycles. An equalizing charge prevents battery stratification and reduces sulfation, the leading cause of battery failure. Reduced performance can also be an indicator that an equalizing charge is needed. All batteries, regardless of their chemistry, will self-discharge. The rate of self-discharge for lead acid batteries depends on the storage or operating temperature.
At a temperature of 80 degrees F. A lead acid battery will self-discharge at a rate of approximately 4% a week. Keeping this in mind if a 125 AH battery is stored for four months (16 weeks) winter without being charged, it will lose 80 amps of its 125-amp capacity. It will also have severe sulfation, which causes additional loss of capacity.
Keep your batteries charged while not in use. We Dispatch by COURIER usually next day but may take two days on occasion.
We have no weekend deliveries. You can collect if you prefer. Our Courier Company always tries to deliver the parcel twice only after that you have contact them to arrange the collection within three days of second attempt and collect your parcel from their nearest depot to your home otherwise they will send the parcel back to us. We dont do WEEKENDS DELIVERIES. Please note the advice given from Starter Batteries customer services regarding suitable products should be treated as a guide only.
If goods prove to be damaged, do not sign. All Batteries warranted against premature failure due to manufacturing or material defects only.
Warning:-Remove bungs (plugs) immediately after receiving the battery or batteries (All types of flooded lead acid batteries) even in storage condition. Bungs (Plugs) are only for transportation use. If these instructions are not followed(removing bungs immediately) battery may get bulged or explode. INHALATION - Remove from exposure, rest and keep warm.
EYE CONTACT - Wash out with plenty of water for at least 15 minutes. SKIN CONTACT - Remove contaminated clothing immediately and wash affected skin with plenty of water. INGESTION - If the electrolyte has been confined to the mouth give large quantities of water as mouth wash ensuring that it is NOT swallowed. If electrolyte has been swallowed, give water to drink immediately. BURNS - Apply sterile bandage.
The item "12V 110AH XTREME XR1750 AGM Ultra Deep Cycle Leisure Battery Unspillable & Safe" is in sale since Wednesday, February 08, 2017. This item is in the category "Vehicle Parts & Accessories\Car Parts\Electrical Components\Car Batteries". The seller is "starterbatteries2011" and is located in Glasgow. This item can be shipped to United Kingdom.
Car Battery Type: VRLA AGM Battery
Brand: XTREME
Manufacturer Part Number: XR1750
Classic Car Part: Yes
Country/Region of Manufacture: Unknown
Ampere-Hours: 110Ah
Voltage: 12V
Type: AGM Battery
Reference OE/OEM Number: DIN L5