ABSAAR ATEK 16000 12V 6A 10A 16A Leisure Battery Charger Caravan Motorhome Boat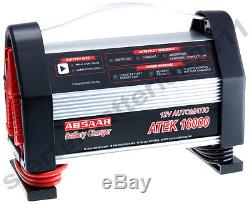 THE NAME FOR BATTERY CHARGER IN EUROPE. ABSAAR ATEK 16000 12V 16A DC. The HFC smart-charger is designed with built-in MCU control that can be used in AC230V environment. The maximum power output is 14.8Volt DC. The charger converts AC power to DC charging currents through switch mode technologies at frequencies between 40KHZ to 60KHZ and isolated high-frequency transformer.
All of these chargers are fully automatic through all four cycles and intelligent so that once the battery charger is hooked up to the battery, no input is needed from the operator. Once a 12V battery is properly connected, the smart-charger will initiate a unique four-stage charging cycle automatically. This MCU controlled smart-charger controls every facet of each charging state, with different LEDs flashing indications. When the unit is first started, the microprocessor will automatically diagnose the batterys conditions and the charging connection. First it will start with the temperature interlock indication, and then it will check whether the battery is connected.
After that, it will go through battery-voltage diagnostics. If the battery voltage is below 4.5V; reflects short-circuiting, or reverse polarity connection, the warning LEDs on the panel will flash. If the battery-voltage is detected to be between 4.5V to 10.5V, the charger will allow 5 minutes of small current charging. After five minutes of charging, the MCU will automatically diagnose various protection modes, before it jumps to the next stage of Fast Charging; full charge is shown by a solid light of the COMPLETE LED.
The last stage of maintenance-charging will continue until the batteries are summoned to use. This battery charger can be used for charging following applications batteries: Cars, Taxis, SUVs, 4X4 Off-Road vehciles, Vans, Small Trucks, Trucks, Plant Machinery, Agriculture Machinery, Building Machinery, Leisure (Caravans & Motorhomes & Motor Movers), Marine (Boats & Yachts) etc.
This battery charger is designed for charging & maintaining. (Also known as VRLA AGM batteries).
(Flooded Wet Cell Lead batteries). Calcium alloy Technology Lead Acid batteries like Calcium / Calcium or Calcium Silver or Calcium Tin etc. (All types of Deep Cycle batteries: Flood Cell ; VRLA AGM ; VRLA Gel Cell). Weather Proof ; Pulsing Current Pump ; Fast & Safe ; Charge & Maintain ; Light Weight ; For Wide Range of Batteries.
For 25Ah -- 100Ah batteries. For 100h -- 200Ah batteries. For 25Ah -- 100Ah batteries &. Charges Lead Acid Batteries & VRLA (AGM & Gel) Batteries. UK Standard 3 Pin Plug Adaptor.
Against manufacturing and material defects. CHARGING FEATURES - 4 Stage (Step) Charging System. Stage 1: Refresh Charging (ENERGIZING). It protects against high current surging through the battery & calculates optimal charging rate subsequent charging stages. It is accompanied by slow flashing of the LED corresponding to ENERGIZING.
During this stage of the operation, if required, the charger will desulphate the battery plates and prepare the battery for the second stage the charger is able to determine this automatically and no input is needed from the operator. Stage 2: Fast Charging (CHARGING). Through its constant pulsing current pump, the charger fast charges the battery according to a pre-set voltage, while avoiding over-heating the battery. This stage is indicated by fast flashing of a yellow LED corresponding to CHARGING. Stage 3: Absorption charging (ABSORPTION). This is an important stage in battery charging that verifies and double confirms the energy has been successfully transferred to the battery before the maintenance cycle of the charger is initiated. Stage 4: Full / Maintenance (COMPLETE). This stage keeps the now fully charged battery in an ideal storage condition stage for their immediate service when the battery power is needed later.
A solid yellow light indicates that the battery is fully-charged and ready to use. Protection Indicators on Control Panel. LED flashing means no 12V battery connection is detected.
Lightly continuously ON means the battery is already fully charged. CLAMPS SHORTED / BATTERY DAMAGED. Light flashing, indicates that the output claws are either shorted or the battery is permanently damaged. LED flashing means the connection polarity has been reversed.
When over-temperature protection is activated is activated, all LEDs would go off. This situation is reset after cooling down. The charger is protected by the following features. AC Voltage Protection: The charger will automatically shut down when the input AC voltage drops.
The charger has an AC fuse built in protection against wrong AC input. DC Voltage Protection: Even if the charger is connected to a 24V battery or reversed polarity, no damage would occur. Output Short Circuit Protection: The charger will shut down the charging circuits immediately when a short circuit is detected.
The charger will not start until this program is rectified. Reverse Polarity Protection: The output clamps connection is reversely connected to the battery terminals. It is indicated by the corresponding yellow LED flashing.
It should not cause any damage. Thermal Protection: A thermostat has been built into the charger for thermal protection. The charger will shut down and all LEDs will go off. It will require restarting the power switch off to reset the charger, and after sufficient ventilation is introduced to the charger. It is suggested that the charger be used in an open area for prolonged charging/maintenance application. We Dispatch by COURIER usually next day but may take two days on occasion. You can collect if you prefer. Please note the advice given from Starter Batteries customer services regarding suitable products should be treated as a guide only. If goods prove to be damaged, do not sign. All Batteries warranted against premature failure due to manufacturing or material defects only. Warning:-Remove bungs (plugs) immediately after receiving the battery or batteries (All types of flooded lead acid batteries) even in storage condition. Bungs (Plugs) are only for transportation use. If these instructions are not followed(removing bungs immediately) battery may get bulged or explode. INHALATION - Remove from exposure, rest and keep warm. EYE CONTACT - Wash out with plenty of water for at least 15 minutes. SKIN CONTACT - Remove contaminated clothing immediately and wash affected skin with plenty of water. INGESTION - If the electrolyte has been confined to the mouth give large quantities of water as mouth wash ensuring that it is NOT swallowed. If electrolyte has been swallowed, give water to drink immediately. BURNS - Apply sterile bandage. The item "ABSAAR ATEK 16000 12V 6A 10A 16A Leisure Battery Charger Caravan Motorhome Boat" is in sale since Saturday, February 04, 2017. This item is in the category "Vehicle Parts & Accessories\Motorhome Parts & Accessories\Campervan & Motorhome Parts". The seller is "starterbatteries2011" and is located in Glasgow.
This item can be shipped to United Kingdom.
Type: Battery Charger
Brand: ABSAAR
Sub-Type: 12V 16A Fully Automatic Smart Battery Charger
Manufacturer Part Number: ATEK 16000
Voltage: 12V
Charging Current (Amps): 6Amps / 16Amps
MPN: REF: 0121601 461